On the 3rd February 2020 Portsmouth Water held an event for local farmers and other interested stakeholders to come visit and discuss their cover crop trials being delivered through the CPES Interreg Project South Downs Groundwater Case Study pilot.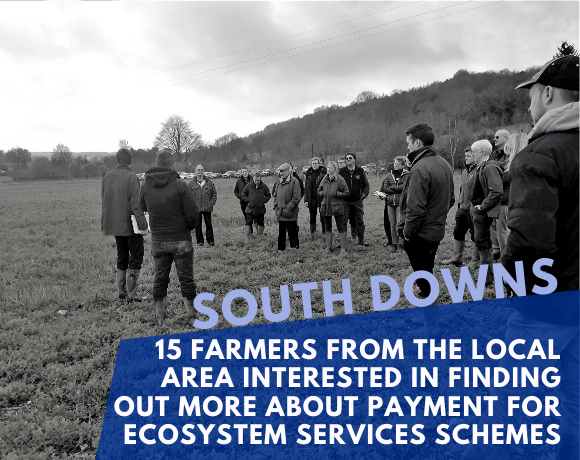 The event started with a site visit to one of the cover crop trial sites, with Stephen Woodley (agronomist and soil specialist) and Simon Deacon (Portsmouth Water) presenting the results of the soil and water testing carried out to evaluate nitrate leaching levels. This was followed by Susie Holmes (Soil Specialist) presenting the findings of another cover crop trial from a different farm as part of the CPES project. Though cold outside, the farmers had plenty of questions and shared their own experiences of cover cropping which proved to highlight the need to organise these kind of events to learn off each other.
The event was attended by over 15 farmers from the local area and other stakeholders including farm advisors, local government organisations and local authorities. All were interested in finding out more about Payment for Ecosystem Services schemes such as cover cropping, soil sampling and nutrient planning.
The results so far have shown that different covers crop mixes reduce nitrates from leaching in to groundwater. Everyone agreed that introducing them as a standard crop before planting spring crops such as barley makes sense though the financial incentives still needed to be developed.