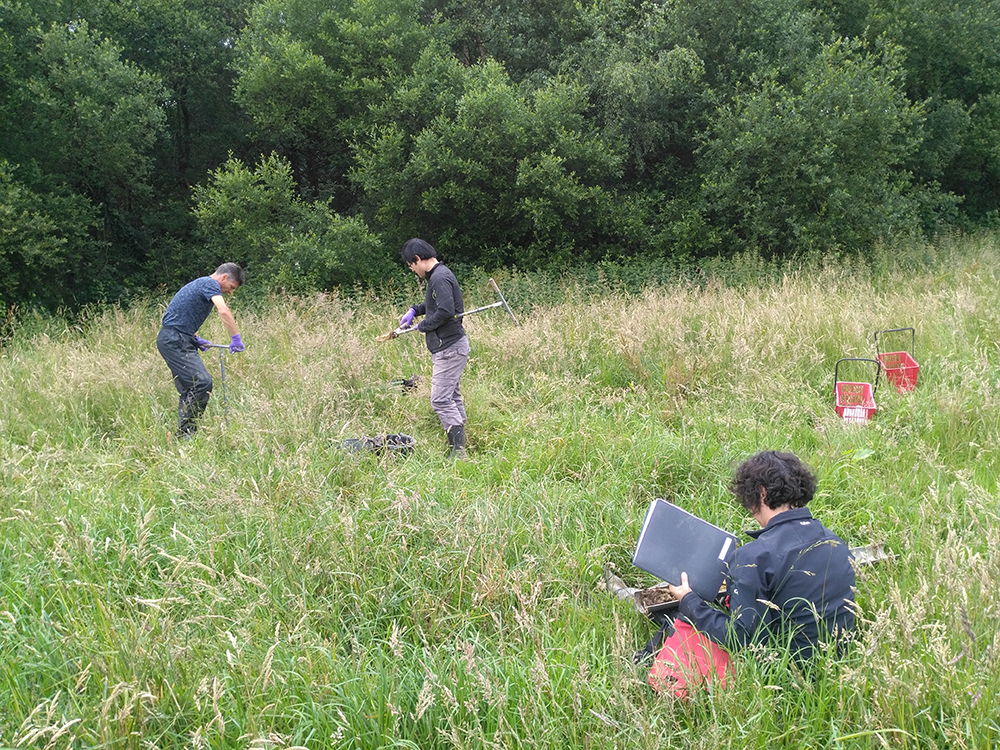 The CNRS-INRA team involved in the pilot site study Lac au Duc - Yvel-Hyvet watershed continues its work of identifying the contributing areas of Phosphorus. This work is a prerequisite for the definition of Payments for Ecosystem Services that will be offered to farmers. On Thursday 14th June 2018, a team led by Gérard Gruau of the CNRS - OSUR was interested in the case of wetlands, which according to hypotheses, could play a very important role in the transfer of phosphorus to the watercourse. Four wetlands were visited and 17 soil samples taken for analysis.
Grass strips, cultivated plots, meadows, forests ... the researchers wanted to sample the different contexts encountered in the wetlands of the watershed. After drying for 2 or 3 weeks, then sieving, some of the collected soil will be sent to the INRA laboratory in Arras for analysis. Another part will be used for laboratory experiments aimed at characterizing the phosphorus saturation rate of these soils and their ability to release Phosphorus to the water table and the watercourse. In the end, it will provide references allowing improved management of wetlands from the point of view of Phosphorus, seeking to reconcile protection of water quality and agronomic valuation.
Anne Jaffrézic, a soil scientist at Agrocampus, assisted with a detailed description of soil profiles, useful for interpreting Phosphorus data. Topography is one of the factors investigated by researchers, a steep slope that can promote erosion and phosphorus accumulation at the edge of streams. If this role of the slope is confirmed, the topography will identify the areas at risk of strong Phosphorus transfer and thus will help to define optimal management recommendations for wetlands of the watershed facing relatively steep slopes. These recommendations will be evaluated from the point of view of their costs by the economists involved in the project, these costs being ultimately integrated into the Payments for Ecosystem Services tool.
The results of this first series of soils will lead the researchers to sample other sectors, to complete the representativity of the different contexts.