An active period for project partners
The summer has been a dynamic one for the CPES project partners through numerous events. Since the Ploërmel seminar, several major dates have marked the common work schedule and each site. These meetings are essential for the convergence of theoretical concepts of payments for environmental services with the local interests of stakeholders. Find the key news from June to October in the second part of this letter.
---

Several deliverables in preparation
2018 is the year of diagnosis for the 6 case studies. In June, the Ploërmel seminar gave an update on the common orientations of the deliverables for the end of the year. By the end of November, each site has to deliver: * Its report on its geographical and socio-economic context * Its report on the state of the environmental * Its work schedule * Its risk assessment. Thanks to this, each site can take stock of its initial situation and define the precise objectives for future PES contracts.
Read more

---

Toolbox in progress
During the next project workshop scheduled for early December, one of the key points of the workshops will be the preparation of the PES Toolbox. A preliminary version of this set of resources will be discussed between the partners in order to publish it eventually on the project's website, on the dedicated page. This tool will be in development until 2020 and will be one of the central results of the project to enable the duplication of PES in other watersheds subject to water quality problems.
Read more

---
Share the newsletter!
Do you know people who could be interested in receiving CPES project's newsletter? Share the way to get registered: write your email address.at the bottom of the home page of www.cpes-interreg.eu. CPES's newsletter will get to your mailboxes every 3 months!
Westcountry River Trust #Actonsoils!

On 22nd on June, at Roadford Lake in Devon, environmental experts, politicians and representatives from the agricultural sector were...

Read more
Second H2O2 application on Lac au Duc

Early in the morning of Tuesday, July 17th, the second application of hydrogen peroxide was made by the company Arcadis equipped with a light...

Read more
CPES project discussed at Seine-Normandy Agency

On Friday 7 September, the Seine-Aval Maritime and Land Division invited local stakeholders from the Seine-Normandy area to discuss payments for...

Read more
Users of Lac au Duc are surveyed until December

Within Channel Payments for Ecosystem Services project, a research project is led by INRA's SMART LERECO unit of Rennes, in partnership with the...

Read more
Lac au Duc presented at regional level

The partners of the Lac au Duc case study represented the CPES project, on October 2nd, on the occasion of a thematic day organized by the Brittany...

Read more
Cover crop trial goes ahead on the South Downs

As part of the CPES project, Portsmouth Water have commenced their cover crop trial at a farm within the South Downs groundwater catchment. Working...

Read more
70 participants at the national seminar on PES in Paris

About 70 participants gathered at the Pavillon de l'Eau in Paris on the afternoon of Wednesday, October 17th to attend the presentation of the case...

Read more
---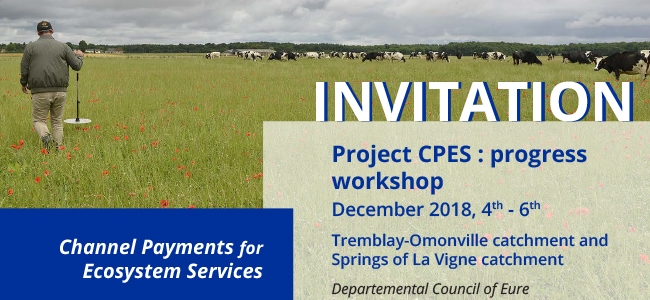 Next project event
Confirm your presence to Camille Brindel before November 2018, 27th: camille.brindel@serpn.fr